Terms and Conditions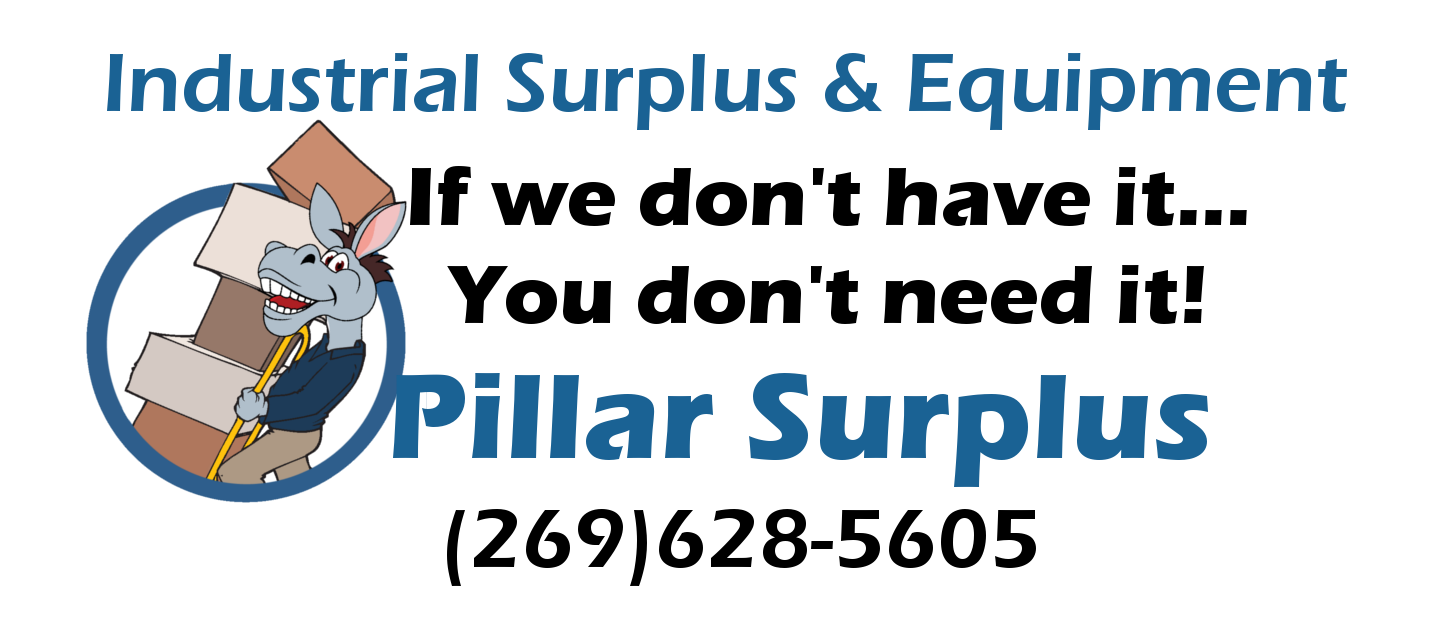 PLEASE READ THE FOLLOWING TERMS AND CONDITIONS OF USE CAREFULLY BEFORE USING THIS WEBSITE. All users of this site agree that access to and use of this site are subject to the following terms and conditions and other applicable law. If you do not agree to these terms and conditions, please do not use this site.
Condition of Item and What you can expect from our items:
Pillar Surplus wants you to be satisfied with the products you purchase from us. Each listed item has a description to define the condition of the product we are offering for sale. Below are some terms that you may see to describe the item that you are interested in purchasing.
New-In Box or New in Packaging - Product is in its original manufacturer packaging and has never been used. It may have been opened by us to fully verify and identify the product and to provide photos for our listing.
New-No Box or New Without Packaging - Product appears to be new and unused but is not in original manufacturer packaging. Item may also contain unmarked packaging to keep smaller pieces together or to keep the item protected.
Old Stock - Item appears to be unused and has been in storage for some time. This means that it may contain shelf wear (scratches, dust, etc.)
Refurbished - Item has been refurbished and/or have re-manufactured by the manufacturer or its authorized repair facility. We do not perform this service and offer no warranties.
Used - Product has obviously been used but still has useful life left. It is quite often that these products are in excellent condition or can have consumable/wear parts changed by the buyer and put back into service. There may or may not be replaceable parts available within our inventory to serve this purpose.
Parts Only - Item is intended as a parts source only - actual working function is unknown. This description is also used for incomplete packages. Often times, we are unable to test these items. These items are NOT eligible for return UNLESS we shipped the wrong product to you.
Shipping
Unless a specific price is listed for shipping on an item, please contact Pillar Surplus via telephone (269-628-5605) or email (sales@pillarsurplus.com) prior to making an offer or purchasing an item. We can provide you with a shipping quote for the item you are wanting to purchase.
Pillar Surplus utilizes UPS for shipping on shipments of 150lbs. or less. For larger items we utilize various truck freight companies. This is to verify you are paying for the total amount of your purchase at one time making your transaction simpler and easier.
Your order will be shipped to the address that you (the customer) provide. You are responsible to ensure that the correct address is provided. Pillar Surplus will not be responsible for shipping to an address that has been incorrectly provided by the customer on their online order. Additional shipping costs will apply to resend the order.
Pillar Surplus will not complete and ship your order until full payment for both the item and shipping charges has been received. If the shipping is not arranged and paid for within 30 days, all items and paid funds for any items purchased will be forfeited. Items will then be relisted for sale. Most Pillar Surplus orders can be shipped within 24 hours of receiving full payment on normal business days. We ship Monday-Friday via UPS ground or Priority Mail. Orders shipping to foreign countries will be calculated accordingly. Costs will be calculated and presented to the buyer. If you need an order expedited, we can do this too. (Note: higher costs do apply to expedited orders.) Please request a shipping quote for this, as the rates may be different then what is quoted for standard shipping. Shipping hours are 8am-12pm and 1pm-4:30pm Monday-Friday. Options include:
Local Pickup: Free pickup of your items from our warehouse in Gobles, MI. Most items can be picked up on-site from our warehouse. Please let us know in advance if this is what you would prefer. We do require a signed liability waiver and reserve the right to refuse pickups that have not been scheduled in advance. If you would like to review a copy of this local pickup waiver prior to purchase please contact us.
USPS: We use USPS Priority Mail for shipping of smaller items.
UPS: Shipment of items weighing under 150lbs. UPS collect can also be used to ship your items. Just provide us your UPS Account number and we will ship it directly to you.
Freight: We will need to generate a quote to determine which freight company will best fit your shipping needs.
Please contact Pillar Surplus for a shipping quote prior to purchase or submitting an offer.
Shipping Protection: Shipping Insurance is highly recommended, but optional. This protects you against damage incurred during transit. Delivery delays and Customs' holds are not covered. Shipping insurance is included in our quote prices. If you do not wish to have this item insured, we are not held liable for any loss or damage during transit.
Contacting Us
Call us at 269-628-5605 Monday-Friday from 8am-5pm Eastern Time or via email any time at sales@pillarsurplus.com with any questions or to request a shipping quote.
Payment
Pillar Surplus accepts the following forms of payment for purchase of all items from our website.
• Visa/MasterCard/Discover Credit Cards
• Certified Check
• Cash (local pickup)
• PayPal
If you are paying through PayPal, you must have a confirmed PayPal address. WE WILL SHIP TO THE ADDRESS PROVIDED WITH YOUR PAYMENT, please make sure that it is an accurate and complete address. We are unable to change this shipping address after your order has been processed.
Total payment for both item & shipping fees is expected within 7 (seven) days of order placement unless other arrangements have been made and approved. All purchased items must be picked up within 30 days or the item(s) is/are forfeited without a refund. On larger items that are listed as "available for local pickup" we may, at our discretion, accept a cash payment in person upon pickup.
Return Policy
We can accept returns within 14 days of delivery receipt with the exception of special order items. ALL RETURNS MUST BE APPROVED. There is a 25% restocking fee on returned parts and canceled orders. Canceled orders are treated as returns and will be subject to the same restocking fee. Printed materials such as manuals are not accepted or eligible for returns. Special Order items are not eligible for returns and all sales on them are final. All returns do require a Return Goods Authorization number from us prior to returned items being sent back to us. No shipping charges or Customs fees are refundable for ordered items. The cost of shipping and any Customs fees will only be refunded in instances where the reason for the return is a result of our error. Please write your RGA# on the outside of the package. Please contact us ASAP if you have a return question/situation. Return shipping and any Customs fees are the buyer's financial responsibility and original shipping and Customs fees are non-refundable. After an item is received back to our warehouse, the purchase price of the item will be refunded (less the 25% restocking fee) within three days, although it may tale longer to appear on your credit card statement provided that the item is returned in the same condition as when it was shipped. Photos are taken of the items at the time of shipping and will be verified upon return of the item for condition. No refunds will be processed without the return of merchandise, no exceptions.
Returns
Refunds (less the 25% restocking fee) are issued in the same tender as the original purchase. The purchase price will be refunded within three days, although it may take longer to appear on your credit card statement.
Item Image Disclaimer
We do our best to provide detailed descriptions of our item/s for sale. The item pictured is what is for sale. If a stock picture is being used, this will be mentioned in the description along with the visual images of the item. If a discrepancy between an item's description and the images posted within the listing exists, the item's written description takes precedent over the visual images. Items that may be shown in the photo background are not included in sale unless specifically listed in the item's detailed description. New in Package (NIP) boxes may be opened for the purpose of photographing, adding additional padding/packaging, or ensuring the completeness of the item.
Product Availability
Inventory available is adjusted as sales are processed daily. Since items are listed on multiple sites, quantity is limited, and subject to prior sale. Back-orders are not available.
Typographical Errors
In the event that a Pillar Surplus product is mistakenly listed at an incorrect price, Pillar Surplus reserves the right to refuse or cancel any orders placed for product listed at the incorrect price. Pillar Surplus reserves the right to refuse or cancel any such orders whether or not the order has been confirmed and your credit card charged. If your credit card has already been charged for the purchase and your order is cancelled, Pillar Surplus shall issue a credit to your credit card account in the amount of the incorrect price.
Use of Site
Harassment in any manner or form on the site, including via e-mail, chat, or by use of obscene or abusive language, is strictly forbidden. Impersonation of others, including a Pillar Surplus or other licensed employee, host, or representative, as well as other members or visitors on the site is prohibited. You may not upload to, distribute, or otherwise publish through the site any content which is libelous, defamatory, obscene, threatening, invasive of privacy or publicity rights, abusive, illegal, or otherwise objectionable which may constitute or encourage a criminal offense, violate the rights of any party or which may otherwise give rise to liability or violate any law. You may not upload commercial content on the site or use the site to solicit others to join or become members of any other commercial online service or other organization.
Participation Disclaimer
Pillar Surplus does not and cannot review all communications and materials posted to or created by users accessing the site, and is not in any manner responsible for the content of these communications and materials. You acknowledge that by providing you with the ability to view and distribute user-generated content on the site, Pillar Surplus is merely acting as a passive conduit for such distribution and is not undertaking any obligation or liability relating to any contents or activities on the site. However, Pillar Surplus reserves the right to block or remove communications or materials that it determines to be (a) abusive, defamatory, or obscene, (b) fraudulent, deceptive, or misleading, (c) in violation of a copyright, trademark or; other intellectual property right of another or (d) offensive or otherwise unacceptable to Pillar Surplus in its sole discretion.
Indemnification
You agree to indemnify, defend, and hold harmless Pillar Surplus, its officers, directors, employees, agents, licensors and suppliers (collectively the "Service Providers") from and against all losses, expenses, damages and costs, including reasonable attorneys' fees, resulting from any violation of these terms and conditions or any activity related to your account (including negligent or wrongful conduct) by you or any other person accessing the site using your Internet account.
Third-Party Links
In an attempt to provide increased value to our visitors, Pillar Surplus may link to sites operated by third parties. However, even if the third party is affiliated with Pillar Surplus, Pillar Surplus has no control over these linked sites, all of which have separate privacy and data collection practices, independent of Pillar Surplus. These linked sites are only for your convenience and therefore you access them at your own risk. Nonetheless, Pillar Surplus seeks to protect the integrity of its web site and the links placed upon it and therefore requests any feedback on not only its own site, but for sites it links to as well (including if a specific link does not work).
Notice
Pillar Surplus may deliver notice to you by means of e-mail, a general notice on the site, or by other reliable method to the address you have provided to Pillar Surplus.
Warranty
THERE IS NO IMPLIED MANUFACTURER WARRANTY
All items are sold as-is, where-is with no warranty from Pillar Surplus, and no guarantee of manufacturer warranty coverage unless specifically listed in the item details. Returns will not be accepted or processed due to non-functioning product unless specified in the item listing.
LEGAL TERMS OF SALE
We are not an Authorized Distributor for any product listed or sold and do not offer any warranty or guarantee. All Items being offered for sale are sold as is, no returns or exchanges unless stated in writing. We assume no responsibility or liability for damage resulting from the use or misuse of this item. It is the sole responsibility of the buyer to determine the applicability and safety of each item to their particular use.
DISCLAIMERS, WAIVERS AND INDEMNITY: By purchasing this or any other product ("Item") from Seller, no matter in which venue or location the sale is consummated, you ("Purchaser") represent that you are of legal age (18 years or older) to use this Item, enter into this agreement, and become bound by its terms.
Pillar Surplus is not an Authorized Distributor of the products we sell. All brands names and logos are property of their respective owners. The names and logos are used strictly for comparison and reference purposes only.
Item is sold in its current as/is condition as described. Purchaser knowingly and freely assumes all risks of ownership and use, known and unknown. If Purchaser loans, re-sells, gifts, or transfers the Item, Purchaser will obtain transferee's agreement of all the terms contained herein. Should any legal cause of action arise, the Buyer agrees to defend Seller, and hold harmless, and forever release the seller, from any and all legal liability.
Purchaser acknowledges that Seller is neither the manufacturer of this Item nor an agent of the manufacturer. Seller hereby disclaims all claims, express and implied, with respect to this Item, including without limitation, any implied warranties of merchantability, fitness for a particular purpose, or that the Item is free from latent defects. Purchaser has had the opportunity to contact Seller to ask any questions regarding this Item prior to purchase.
Purchaser waives all liability of Seller and claims against Seller for damages, losses, costs, injuries, penalties, expenses, attorney's fees and liabilities of whatever nature whether in tort, contract, warranty or strict liability, including without limitation those resulting from injuries or deaths of persons and damages to property resulting from, or arising out of or in connection with the use of this Item, loss or liability resulting from negligence, operational deficiencies or failures, acts of God, or other cause (whether such causes are avoidable or not) caused in whole or in part, directly or indirectly by Purchaser, Seller's employees, representatives, agents or third parties (collectively, "specified claims").
Under no circumstances is Seller responsible for special, indirect, incidental or consequential damages, even if Purchaser has been advised of their possible existence. Purchaser agrees to indemnify, defend and hold Seller harmless from and against any and all specified claims.
PURCHASER WARRANTS THAT THEY HAVE READ, UNDERSTOOD, AND ACKNOWLEDGE THAT THEY HAVE GIVEN UP SUBSTANTIAL RIGHTS BY THIS AGREEMENT, AND AGREE TO THESE TERMS FREELY AND VOLUNTARILY WITHOUT ANY INDUCEMENT.